KEEP IT SIMPLE, KEEP IT SAFE!
No compromises when it comes to feed quality and wrapping!
Best forage quality is one of the most important condition for animal welfare and performance. Besides an optimal preparation of the crop, the combination of machine and film is very important to achieve a good silage quality. Tenospin films offer a high operational reliability on your wrappers and improves the economic efficiency by maximal pre stretch levels. At the same time the low air permeability and the excellent adhesion of the film layers guarantee permanently sealed bales and best feed quality for your animals. Tenospin has been developed especially for round and square bales and works on all wrappers.
Premium multilayer blown film with best adhesive and stretching properties! Many years of experience and gained knowledge regarding the requirements of baled silage and the production of film as well as the carefully selected PE raw materials and additives made this unique blown film possible.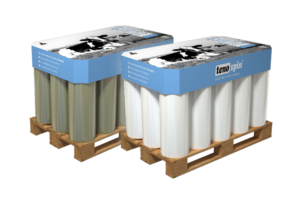 Multilayer construction and a blend of a high number of components ensure the important features for a silage film as adhesion, bonding, stretching, colour, tear-strength, UV-protection and a smooth surface.
10 good reasons for Tenospin®
Multilayer blown film with very good elasticity and stretching properties, suitable for all wrappers and regions.
Best silage quality due to the bale being perfectly sealed because of the high adhesive strength of the film.
Hermetically sealed bales without clogging the pre stretching unit, because the glue is worked into several layers. This also makes the film reels usable for more than one season.
The wrapped bales are with the right management very tight and weather protected. The film is also very strong which makes it tough against tearing and punctures.
Better efficiency due to very high pre stretch level up to 80% – for tightly wrappped bales and more bales per hour.
Care for the environment and saves resources because of selected raw materials. Film and cores are recyclable.
Very weather-resistant thanks to our special plastic core and the high UV-stabilization of the film. UV-protection for at least 12 months after wrapping, also in southern regions.
Selected raw materials for a constant quality for trouble-free usage also under extreme conditions as e.g. high temperatures, windy, dusty environments and high humidity.
We and our partners offer you a reliable supply and full service regarding all balewrap and silage questions.
No compromises! Tenospin has been tried and tested globally for decades and will always be a reliable choice!
| Dimensions | Colors | Reels per pallet | Manual | Machines |
| --- | --- | --- | --- | --- |