OUR RECYCLED-CONTENT PRODUCTS ARE CERTIFIED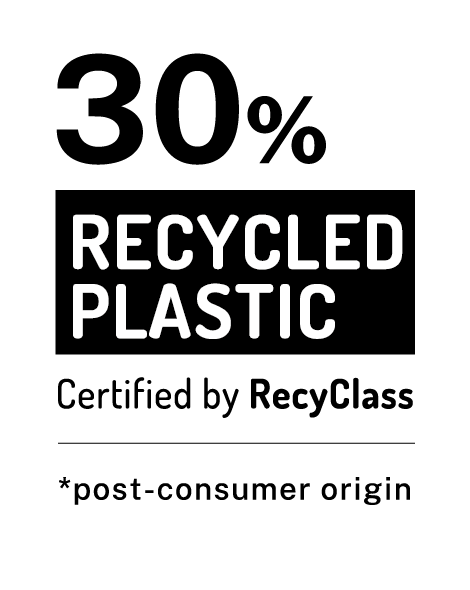 Our products integrating recycled content consist of a minimum of 30% PCR and are all certified by RecyClass, ensuring transparency and reliability in every purchase.
The certification by RecyClass guarantees our commitment as a manufacturer to utilize the specified recycled content and enables its traceability from its origin to its integration into the final product. Our focus on PCR (Post Consumer Recyclates) significantly reduces the environmental impact. This emphasis on transparency is crucial, granting you, as a customer, confidence in your purchases. Learn more about the RecyClass certification process here.
OUR QUALITY ASSURANCE SYSTEM IS ENDORSED BY THE SWEDISH TECHNICAL INSTITUTE
Annually, we undergo evaluation by the Swedish research institute RISE (formerly SP) to ensure the quality of our products, from organizational structure to the final output. This process guarantees that our products adhere to high-quality standards. RISE, a prominent global research institute, collaborates closely with clients to provide substantial value, delivering top-notch contributions across the entire innovation chain. They issue compliance certificates for numerous standards. The P-symbol, emblematic of RISE/SP's own quality approval, is exclusive to their organization. For more details, visit ri.se.