PROTECTS YOUR VALUABLE FORAGE

Tenospin plus® – Get more with less!
Best feed quality and highest economical efficiency – our premium plus film Tenospin plus unites both of these goals! It was developed especially to meet the requirements of high performance wrappers as they are used by large dairy farms or contractors. With our unique PlusTech technology we were able to produce a thinner film, with excellent results regarding technical properties and silage quality. Because of the 1900 or 2600 m per reel you will reach a higher running meter count and can wrap more bales with the same number of reels. Because of the possibility to compact the film inline during the PlusTech manufacturing process the film structure and properties are changed and improving the strength of the film. The excellent adhesion of the film in combination with the very good tear strength enables a perfect sealing of the crop, both in round and square bales!
Powerful and airtight – even in argressive wrappers the Tenospin plus offers highest functional reliability. With that improved quality you gain up to 73% more meters per reel, meaning: More bales per reel, less reel changes, less stops and less waste! Good arguments for more efficiency in silage production, aren't they?
High performance, best protection, easy wrapping with our PlusTech technology
The PlusTech technology enables us to produce a film with a quality that has not been reached before. During production the multilayer blown film can be pre streched and thereby highly compacted. Besides a new Teno-recipe with a blend of a high number of different components, the controlled temperatures during the process are a centerpiece in our production.
The result is a very smooth surface combined with a very low air permeability. Also PlusTech films offer an additional adhesion, which is the basic requirement for a perfect air seal and thereby improved feed quality.
High economic efficiency
Time savings thanks to higher daily output
Top silage quality by improved bale stability
Less transports and storage space needed
Reduced waste handling
Reduces the environmental impact
Special colors for a good cause
Tenopsin plus RS 1900 is also available in pink, blue and yellow to raise awareness for breast cancer (pink), prostate cancer (blue) and childhood cancer (yellow). Additionally, a donation is made to a local charity for every reel sold.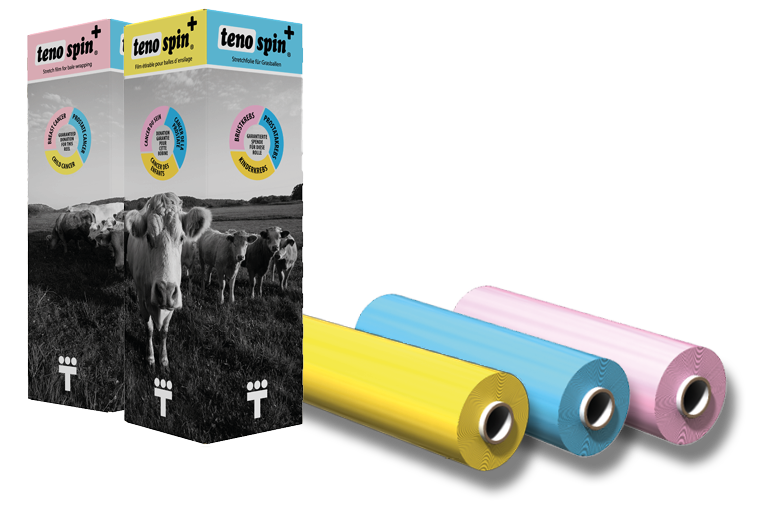 *LCA modeled in SimaPro using data from the ecoinvent inventory database. Reduction in impact when comparing Tenospin plus 21/19µ to Tenospin 25µ, cradle-to-gate.
| Dimensions | Colors | Reels per pallet | Manual | Machines |
| --- | --- | --- | --- | --- |