Tenoplus is now called Tenospin plus!
As you know, for decades now our mission is to provide you with high-quality bale wrap to help you produce the best forage for your animals. Tenoplus has been your choice when aiming for more efficiency without making any compromises on the silage quality.
For the 2022 season we have decided to rename Tenoplus to Tenospin plus.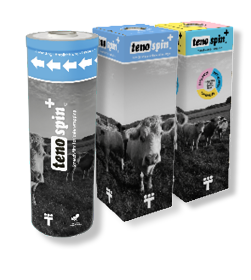 We felt that, by doing so, we can strengthen the bond with the mother brand Tenospin, which is known and valued by farmers and contractors all over the world and thereby also simplify the product choice for our customers.
At the same time, we have changed the name for the special production technique of Tenopsin plus from PreTech to PlusTech. The PlusTech technology enables us to produce a multilayer blown film with a quality that has not been reached when conventional bale wrap has been produced.
Be assured, that the name is the only thing that has changed, but the product itself remains the same.
Tenospin plus still unites all the benefits you've come to love:
Less material usage per bale – Saving both cost and carbon footprint
Proven with low silage losses – DM losses down to 1%!
PlusTech film – Goes thinner but with same or better performance than 25μ
More meter per reel – Increased output per day
No compromising on fodder quality
Tenospin plus RS is available in the special colors pink, blue and yellow to support cancer awareness